ageHa Summer 2020 Opening Party開催決定!!
2020.06.26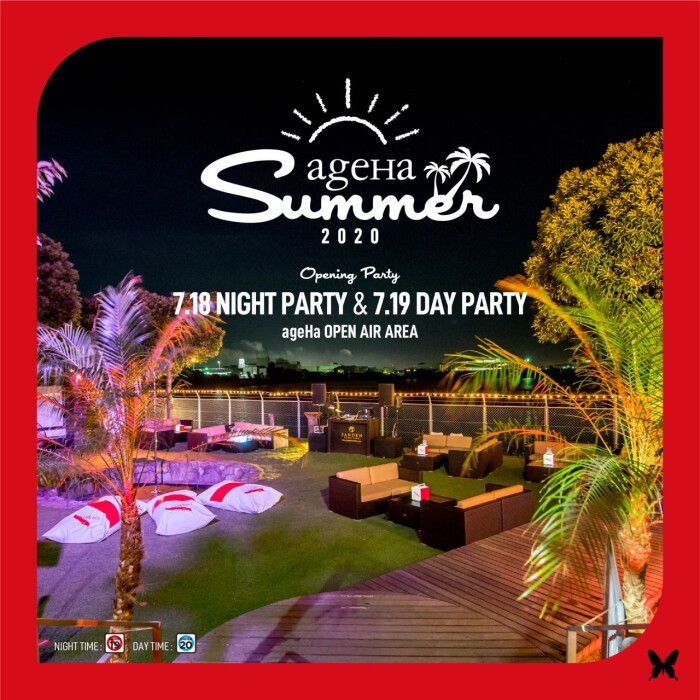 7月18日(土)のオールナイトパーティー、19日(日)のデイタイムパーティー(未成年入場可能)より2020年のageHaの夏をスタートします。

5ヶ月ぶりに皆様とお会いできることを楽しみにしております。
PARTYの詳細はこちら

7月18日(土)
http://www.ageha.com/schedule/event.php?id=327619

7月19日(日)
http://www.ageha.com/schedule/event.php?id=327620


【 IMPORTANT 】
・密閉空間を避けるため、屋外エリアを中心としたイベントを期間限定で行います。
・密集を緩和するために人数制限を行います。
・密接とならない様、全ての方にフィジカルディスタンス(1-1.5m)の確保をお願いします。

全てのお客様(スタッフ、アーティスト共通)に、

・検温(37.5度以上の方は入場禁止)
・マスクの着用
・小まめな消毒
をお願いしております。

店内でのルールに関しては、アゲハガイドラインをご確認の上ご参加ください。
■ ageHa Guideline
http://www.ageha.com/news/article/?id=4535


政府または都からの要請によりイベント内容は変更になる場合がございます。
あらかじめご了承ください。

All Event Participants Must Abide by the Following
- Both a temperature check and application of disinfectant are pre-requisites to entering. Those with a temperature of 37.5°C (99.5°F) or over, as well as those who feel physically unwell, will be denied entry.
- You must be wearing a mask to enter. Those without a mask will be able to purchase one at the entrance for ¥100 yen.
- There will be a maximum occupancy.
- When lining up to enter, please maintain a distance of 1 - 1.5m (approx. 3 - 5 ft.) from those around you.
- All event participants will be required to share their contact details (either when buying pre-sales or right before entry to the club).
* Note the former is much more efficient.